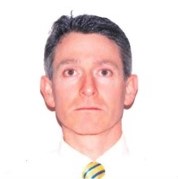 Marc Meyer
Mr. Meyer is the Acting Assistant Inspector General for USAID OIG's Office of Investigations. In this capacity, he oversees a global workforce of criminal investigators, analysts, foreign service national investigators, and support staff collaborating on investigations into corruption, fraud, and other criminal activity impacting USAID, as well as the U.S. African Development Foundation, the Inter-American Foundation, and the Millennium Challenge Corporation. He first joined USAID in 2020 as the Deputy Assistant Inspector General for Investigations.
Mr. Meyer has more than 30 years of public service and leadership in law enforcement, the legal practice, the intelligence community, and the U.S. diplomatic corps.  Prior to joining USAID OIG, Mr. Meyer served as Special Agent-in-Charge for the U.S. Department of State OIG, leading a team of globally dispersed Special Agents and Assistant Special Agents-in-Charge conducting and supervising domestic and international investigations related to public corruption, complex white-collar crime, international fraud, counterterrorism, counterintelligence, and employee misconduct. He also served as a Special Agent with the U.S. Department of Justice OIG, and the Diplomatic Security Service, where he conducted complex criminal investigations, personal protection for high profile individuals including the Secretary of State and His Holiness the Dali Lama, and provided and managed security at U.S. embassies overseas.
Prior to his federal law enforcement career, Mr. Meyer served as a Foreign Service Officer and U.S. diplomat overseas and domestically for the then-Coordinator for Counterterrorism and was a criminal defense attorney in New York and New Jersey, where he still maintains his bar licenses. Mr. Meyer began his federal service in the U.S. Army and currently serves as an adjunct professor in the Department of Criminology, Law, and Society at George Mason University where he teaches graduate and undergraduate programs in criminal justice, the Fourth Amendment, surveillance, and privacy law.
Mr. Meyer earned a Bachelor of Science in Broadcast Journalism from Syracuse University and a Juris Doctor from Seton Hall University School of Law, where he was selected to serve as a Samuel J. Heyman Fellow for his public service.